Tour Window

| | |
| --- | --- |
| | The virtual tour window is larger than other companies, without compromising download speed. Skin colors are customizable on every virtual tour allowing you to fully personalize your virtual tours.Images appear crisp and glossy, and window shots are not washed out. |
| | Subject property's full address prominintly displayed in the top left |
| | Real Estate Agent or Owner contact information as well as links to their E-mail, web site and online virtual tour gallery.The Agent or Owner photo and or logo can be added to further customize the virtual tour window. |
| | Click on this icon at anytime throughout the tour to bring you back to this home window. |
| | Click this icon at anytime to begin playig the Virtual Tour. Launching our V-Tour feature will showcase all of your still images and or panoramas in a very elegant flash based presentation. |

| | |
| --- | --- |
| | If the tour has a mixture of panoramas and stills click this icon at anytime to dispaly only panoramas. |
| | If the tour has a mixture of panoramas and stills click this icon at anytime to dispaly only stills. |
| | Feedback is always welcome. Click this icon to give comments and feeback. Want to follow this tour click here as well. |
| | Posting to facebook is this easy. Want to share with friends and family, click this icon and sign into facebook accout to post to your timeline. |
| | Have a Pintrest account? Click this icon to add to one of your Boards. Easy as Click, Click, Click. |
| | Tweet, Tweet, Tweet. at the click of an icon you can tweet the V-Tour. |
| | Click this icon to bring you to the the tool box outlined below. |

| | |
| --- | --- |
| | Go back to the home screen from the toolbox. |
| | Access agent information, phone numbers, email addresses, website, Gallery, request appointment, or send a message directly. |
| | Click this icon and it brings you to a full property description, number of bedrooms, bathrooms, squarefootage, ammenities, etc. |
| | Brings you to Google Maps displaying latitude and longitude, where you can continue to navigate, view satelite, and get directions. |
| | Brings you back to the tool box detailed below. |
| | Access detailed Hit Stat report. |
Bonus Features Available
Hot Spots can be customized for each client and give the viewer information and a sense of direction within the tour. When clicked upon they take the view to other scenes within the virtual tour, to other websites or launch additional virtual tours.
SEO Optimization - The virtual tour window has been specifically programmed to feed dynamic tour information to search engines. Using our online Tour Management System (TMS), you can control how search engines see your tour and how they index the information provided by your tour.
Each scene within the virtual tour is accessible with our drop down shortcut menu.
The virtual tour allows for adding marketing partner banners in the top right corner of every virtual tour. The more marketing partners that participate in the advertising, the more affordable the virtual tours become.
ToolBox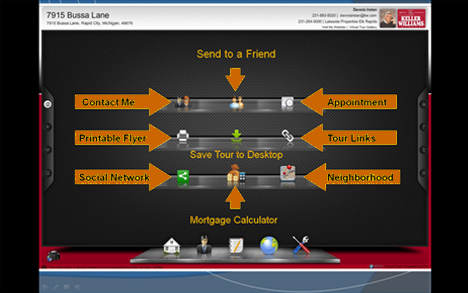 | | |
| --- | --- |
| | Contact Me, enter your name, email address and any comment to be sent directly to the agent. |
| | Email button allows viewers to email a link of the virtual tour to family and friends. |
| | Schedule an appointment to see the home. Give all the information required to book an appointment, what time, date is best and any other comments. |
| | Custom printable flyers and floor plans can be included with every virtual tour, providing additional tour details. |
| | The Download button allows viewers to download the virtual tour as a program file for quick and easy distribution by CD, or other types of media. |
| | Lists all links associated with the tour, ie: tour link, agent tour gallery etc. Email them to yourself. |
| | Instantly post your virtual tours to your favorite social bookmarking sites. Tours are easily Tweeted and posted to Facebook. |
| | Mortgage Info - The mortgage info button allows you to calculate estimated mortgage information. The button can be redirected to your preferred mortgage vendor's site as a lead generator. |
| | Walk Score - Additional information about the city can be accessed on every virtual tour. Detailed information on public libraries as well as local and private schools is included with every virtual tour. |